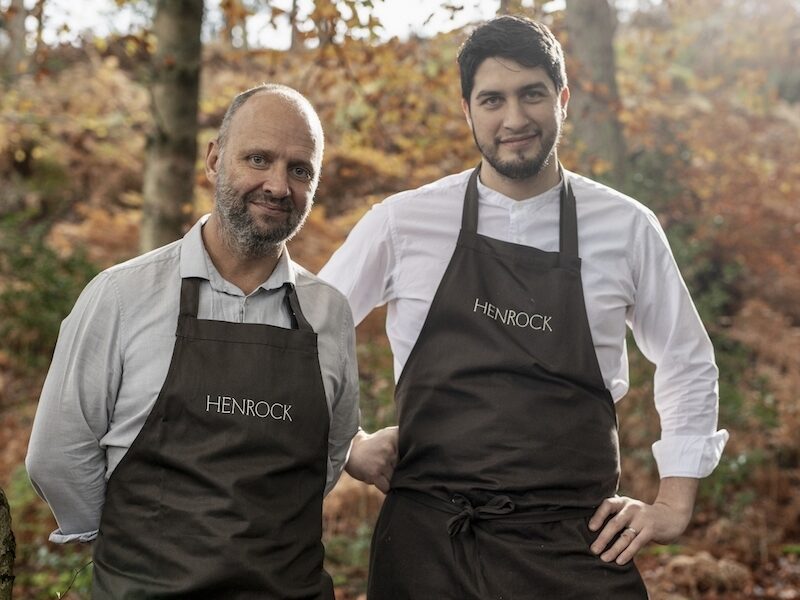 Lakes
Meet Brian Limoges, Head Chef at Henrock
American-born Brian Limoges joins the Rogan group from San Francisco where he spent time at Michelin-starred Birdsong, Quince (three stars) and Atelier Crenn (three stars).
Now Head Chef at Simon's latest restaurant Henrock at Linthwaite House, Brian shares his favourite Henrock dishes, secret ingredients and favourite local produce from The Lakes.
What is your inspiration?
Memories of food and nostalgia. Growing up in New England there is a ton of fresh seafood. Maine is the epicentre for lobster, so growing up in New Hampshire, with such close proximity, lobsters were relatively inexpensive. Eating a whole lobster or a bag of fresh "steamer clams" on a hot summer night with your hands is still something of a muse to me.
Cooking has always been an experience, rather than just for sustenance for me. Nutrition and flavour go hand in hand.
I was a bit of a degenerate teenager, and didn't really have any long term goals. I loved performing arts, playing music and skateboarding, but didn't really see them as careers. I enrolled in cooking class to see if I was interested and after making a simple emulsion sauce I was hooked. It felt like magic. Taking some simple ingredients and manipulating them to be something very special.
How would you describe your cooking style?
Eclectic. The US is a melting pot, so there is a lot of diversity of cuisine. French cuisine was the foundation of my training, so I take a lot of techniques from that and incorporate other elements. Japanese flavours, middle eastern spices, light, but concise flavours. Techniques that bring out unique textures. I think every product should have an individualistic approach to it. A radish one day, will not be the same the next.
Favourite dish on the menu?
Sea urchin – it's one of the dishes that I've worked on for a while but never had a chance to incorporate it into a menu – its an explosion of flavour in your mouth with parts of sea urchin and soy and brioche. It's a sea urchin custard set between two crisp layers, like a sandwich. (The sea urchin is imported from East Coast America via a local company called Flying Fish.)
A lot of the ingredients do come from the region, but some ingredients such as soy come from Japan (but we buy through local importers so we are supporting local business).
Currently, most of our produce comes from Our Farm.
Secret ingredient that you like to cook with?
Koji based products – it's a fungus/spore that grows on grains producing a burst of umami.
Which chefs inspire you?
Every chef I've worked for inspires me in some way or another. On any given day I practice something I've been taught by them.
Most recently, Simon, obviously. We've stayed in touch since we met and with some persistence on both sides, we finally found a way to work together. He's helped me evolve and grow as a chef.
Ana Sortun and Cassie Piuma of Oleana and Sarma – They were my first mentors and have always been there when I needed advice or a nudge in the right direction. I owe them a lot.
Chris Bleidorn and Aarti Shetty of Birdsong – Having the privilege of opening Birdsong with them and learning their attention to detail is one of the best experiences I've ever had. They'll always be friends and I really respect their unrelenting dedication to the craft.
Michael Tusk – I felt like I became a chef inside of his Kitchen. His work ethic and product ethos is incredibly inspiring and I look up to him as a person and a Chef.
First time to the Lakes?
I had been here once before for dinner at L'Enclume and a tour of the farm.
What do you eat at home?
Clean and simply. Mostly ethnic food, especially Mexican. In California there are a lot of Mexican markets and incredibly fresh produce, so it was always what I would cook on my days off. If I didn't cook at home in San Francisco I would just go right down the road to Tommy's Mexican Restaurant – a staple classic SF restaurant. Best Tequila selection in the world, hands down.
Now in the Lake District I still try to keep it simple, cooking from what's local and easy.
Most adventurous dish you've ever tasted?
Mexico was pretty adventurous. Pickled pigs feet, and fried liver. My wife and I missed our flight back to the US because I dragged her to a taco stand in the middle of Mexico City to eat Tripe and Brain Tacos. The tacos were worth it.
Four dinner party guests?
Salvador Dali, Quentin Tarantino, Freddie Mercury and Robin Williams.
What do you love most about the Lakes?
It reminds me of New Hampshire – the weather can change in an instant; it can be pouring with rain and sunny at the same time. The views are amazing. And it's so different from the city, you slow down and start to appreciate nature.
Do you Forage?
In California, I foraged all the time. It's a really great way to learn the landscape and your surroundings. Because of the weather in SF you can kind of do it all year round. In the Lakes, we'll start to explore more foraging in the Spring and Summer where its practical.
Top five Cumbrian products
Game meats – Quail, Venison, Lamb
Everything from Our Farm (and the fact that it's only 20 minutes away) All the lettuce and micro- greens grown in the polytunnels are amazing.
Seafood – Blue Lobsters are amazing, Crabs, Mackerel
Are there any plans for afternoon tea at Henrock?
Yes. We would like to do something a bit different, but I've found it's hard to stray from traditional offerings here. We will slowly evolve, and refine it, until its uniquely ours.

---
Henrock at Linthwaite House is now open for dinner and Sunday lunch in the restaurant, and for small plates, wine and cocktails in the lounge and conservatory.
Food
£5.00
Buy