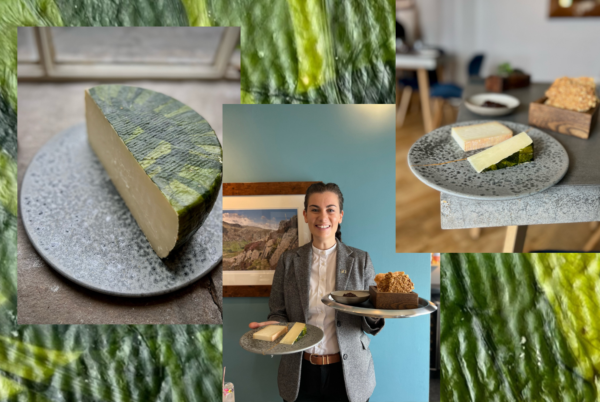 Projects
Our Cheese
Kayleigh, restaurant manager at Rogan & Co and our resident cheese enthusiast, and Cameron, junior sous chef at L'Enclume, worked in collaboration with local artisanal cheesemaker Martin Gott at Holker Hall to make a pasteurised sheep's cheese, similar to the Manchego style of sheep's milk cheese.

For our cheese, we used a local sheep's milk, vegetarian rennet and Martin's starter culture, which is made from cultivating his own sheep's milk. It is very unusual for makers to use their own culture, as most would usually opt for a commercially produced culture. We decided to wrap the cheese in ramson leaves, also known as wild garlic, which is only available at a specific time of year, creating a unique cheese for our restaurants.
We made 18 wheels which were turned, salted and washed with a mix of cultures called Morge, designed to establish a healthy rind. That process was repeated three times a week for six weeks, helping the cheese develop its flavours and the rind to become tacky so that the ramson leaves stick to it.
Once the wheels had aged for five weeks, we foraged the ramson from the woodlands near Eggerslack in Grange-over-Sands. After cleaning and freezing the leaves for a week, we wrapped the cheese in the garlic leaves and sent the wheels to be dried in a special drying room for one week further. Finally, the cheese is ready!
Our Cheese has a creamy taste and texture, with a slight garlic flavour from the ramson leaves and an underlying subtle saltiness from the washing process. If you want to try it, make sure to book a table at one of our restaurants in The Lakes.
Food
£5.50
Buy