Cartmel, an ancient medieval village on the fringes of the Lake District, close to the vast expanse of Morecambe Bay, is quite rightly famous for its picture postcard streets, 12th century Priory and it's noble patron, William Marshall, the First Earl of Pembroke – the architect of the Magna Carta and faithful servant to five English Kings.
Cartmel and Our Surroundings
If you are staying with us, and want to walk around into different cool places
Yew Tree Barn in Newton
At Yew Tree Barn, owned by restoration expert Clive Wilson, you'll find a selection of antiques and gifts, as well as the award-winning Harry's cafe, making it a must-visit destination.
Low Sizergh Barn Farm Shop
This farm shop is full of produce from raw milk from their own cows to award-winning cheese. You can also wander on the farm trail, and watch the milking from the cafe at 3.30pm.
Lovingly Artisan Bakery
Lovingly Artisan Bakery, located at Plumgarths near Kendal, creates hand-crafted, slowly fermented sourdough and baked goods using organic flours. Served as part of our breakfast at Rogan & Co, the recipes have been developed and honed by award-winning local baker Aidan Monks.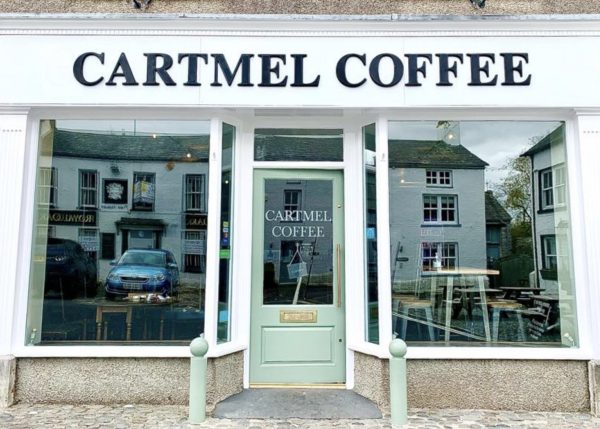 Cartmel Coffee
Located at the heart of The Square, Cartmel Coffee offers a cosy and welcoming destination for coffee, homemade cakes and snacks, all baked and served by the owners, Zarina and Julie.
Outside Cartmel
Cumbria has a lot to offer including the most Michelin star restaurants in a county within the UK
Holker Hall & Gardens Café
Holker Hall & Gardens, is a stunning country house estate situated amidst rolling fells and beautiful countryside. Enjoy the Courtyard Café's indoor or outdoor seating, offering seasonal dishes and delightful homemade bakes.
Grasmere Ginger Bread
The much-loved Grasmere Gingerbread® was invented 1854 by local cook Sarah Nelson. Now famous worldwide, this unique spicy-sweet treat is a mix of biscuit and cake. Today, the two cafes, one in Grasmere and the other in Hawkshead, are run by third-generation owners Joanne and Andrew Hunter.
Levens Hall and Gardens
Located at the gateway to the Lake District National Park, Levens Hall is an Elizabethan house with a beautifully landscaped garden. It is home to the world's oldest topiary gardens.